In 2009, we developed Japan's first Professional IP Radio System called "Voice Packet Transceiver".
We integrated VoIP technology with radio using packet switching of the 4G mobile telephone network.
Unlike conventional radio systems, our system is using the mobile telephone network, so we can make calls available across the country. Our system rarely has dead zones, even between mountains and buildings.
Our system is used in various business fields such as taxis and the logistics industry. More than 120,000 units are in use (Dec. 2019).
We are also able to supply this radio system world-wide by connecting to the mobile networks in each country. We will begin our overseas service in 2016.
Radio system doesn't work

There are some areas where normal radio systems don't work well such as outside of the radio wave area, between buildings, and inside tunnels.
If the radio system doesn't work when you need it, your business might stop, miss opportunities, or you might cause trouble to your customers.
Voice Packet Transceivers can be connected to each other across the country wherever there is a mobile telephone network.
Even in times of disaster, our radio system can reliably connect because we use the packet switching network which, unlike the telephone service, is usually free from regulations.
Our system can be used in taxis on standby between buildings, buses and trucks in deep mountain trails, events such as marathons, natural disasters such as earthquakes, floods, etc.
Reassurance of being connected anytime, anywhere, in any situation
Try the Voice Packet Transceiver and experience the "reassurance of being connected".
I need a license, the application is a hassle…

When you bring a professional radio system into your business, opening the base station and network infrastructure are big obstacles because you need a licensing application to use and operate the radio.
Voice Packet Transceiver is totally different from conventional radio systems even though it looks like a radio system and is called a transceiver. However, by using the mobile telephone network, Voice Packet Transceiver doesn't require a license, base stations or special network infrastructure. The only thing you need is our device.
Our system is easily used for even a short time, and is perfect for customers who were hesitant before because of licenses and applications.
In other words, is this a cell phone?

The Professional IP Radio System "Voice Packet Transceiver" combines a wide variety of calling modes used in mobile telephone networks and professional radio systems.
(1) All call
Talk to all of the radio stations at once.
(2) Dispatcher call
Call from a specific mobile station to the dispatch center. This is used when you don't want to talk other mobile stations.
(3) Group call
Select certain vehicles, and talk within a group such as the sales office unit. Of course, you can call and talk with other groups also.
(4) Individual call
Individual calls are available using a standard multi-function microphone.
(5) Break-in call
When other radio stations are calling, usually you can't participate in the session. However, using a device with the proper authorization settings, you can "break into" a conversation.
Which Professional IP Radio System should I choose?

Chosen by many customers as the pioneers of the Professional IP Radio System.
In November 2009, we were the first company in Japan to develop and commercialize the Professional IP Radio System "Voice Packet Transceiver" which combines the benefits of both mobile phones and professional radio systems. Over 120,000 units are in use (Dec. 2019.).
We provide full support.
We offer a complete one-stop service, including system development, manufacturing, sales, network service and maintenance. Because we are involved in all the processes, we are able to provide the best quality and performance customers need by incorporating customer feedback directly into our products. We can also quickly address any problems or questions that arise.
Professional IP Radio System makes your business to grow.
Voice Packet Transceiver is integrated with our various systems such as the location management system, taxi dispatching system and bus location system. Therefore the Voice Packet Transceiver can be used not only to make voice calls but also for many other tasks such as increasing business efficiency and safety improvement.
Our Professional IP Radio System enables your business to perform better, safer and on a larger scale.
How the Professional IP Radio System works across the country in Japan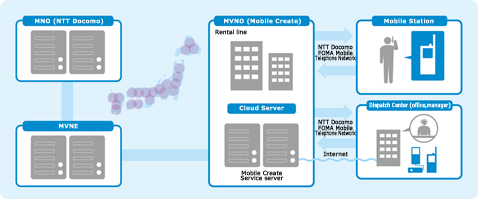 Click to enlarge the image.
The Professional IP Radio System is using a telephone company's mobile network system.
Since the base stations of the mobile network system are set up all across the country, the Professional IP Radio System covers a larger area for calling compared with conventional radio systems.
Through the use of packet switching, the Professional IP Radio System can send more than just voice information. So, the Professional IP Radio System offers many convenient functions which conventional radio systems don't have.
As an MVNO, Mobile Create uses rented lines to offer convenient services to meet your needs.